An Overview of Prague
As a tourist destination, Prague, Czech Republic has a lot to offer. It is a sprawling city, but you will most likely be staying in the old historic district near all of the attractions. There is a bustling nightlife but also lots of history, so there's an activity for everyone to enjoy. There is a wide variety of architecture because Prague suffered very little damage from World War II. It is truly unique to see modern art statues next to a medieval castle around the corner from a baroque church. To top it all off, Prague is one of the cheapest tourist destinations around! I found that Prague was very much a walking city, I didn't take much public transport while I was there. Make sure that you check for local fairs and events during your stay! I believe that around 3-5 days in Prague is the best amount of time to stay and enjoy the city. In Prague, I stayed 3 nights in an Airbnb near the Palladium Mall. It cost $204 USD in total, for 2 people.
Sights & Attractions in Prague, Czech Republic
Old Town Square
Old Town Square is a historic square in the Old Town Quarter of Prague. It is a large, open space, with many attractions nearby. If you're staying in Old Town, then you will walk through this square almost every day. I highly recommend hanging out in the Square throughout the day and early at night. There are many benches and places to sit if it isn't busy. If you decide to drink in public (which can be largely acceptable in Prague), be careful in the Old Town Square and other areas where people aren't drinking. I have seen police be extremely strict with people (especially tourists) about drinking in public in Old Town Square. Pictured here is one of the most famous, Church of Our Lady before Tyn. I did not go into this church, but I know that you can visit for a voluntary donation of 1.50 euro. The beauty of this church is mostly masked by the buildings closely surrounding it, but take a walk around or a look inside if you'd like. More information about the Church of Our Lady before Tyn can be found here.
Prague Astronomical Clock
The Prague Astronomical Clock is the oldest functioning astronomical clock in the world. There are many moving parts to the Prague Astronomical Clock. One of the main highlights is the four figures pictured above the clock. At the top of the hour, you will find a crowd of people waiting for these figures to move around. It is cool to see, but short-lived. If you happen to be in the square when the clock is about to strike a new hour, feel free to take a look, but this motion is nothing I would go out of my way for. If you're more interested in the details of the clock, you can find information about it here.
Prague Castle
The Prague Castle is the largest ancient castle in the world, so it makes it quite the tourist destination. If you are visiting the Prague Castle, plan on spending almost your entire day there. The best way to get to the Prague Castle is by walking. It will probably take around 20 minutes and there is an incline to get up to the castle grounds. Once you get up the ramp, take a look behind you for a nice view of the city. Continue forward to the gate to the castle (pictured above with guards). I recommend planning to arrive to this gate right before 12:00 so you can witness the official changing of the guards ceremony, but a less grand version occurs at every hour as well. Stand where the white and gray bricks overlap because this is exactly where they will split the crowd. To the left of the gate is the entrance and ticket office. Here you will buy your tickets, go through security, and enter the castle. There are several different types of tickets for the Prague Castle, but I recommend just buying the Circuit A ticket which costs 350 CZK ($14 USD). This ticket will essentially give you access to everything, I believe the extra few dollars won't matter much anyways and it's good to give money to the preservation of this castle.
Visiting Inside Prague Castle
The Castle is large, and they will give you a map to navigate the grounds. There are four main parts of Prague Castle: The Old Royal Palace, St. Vitus Cathedral, St. George's Basilica, and the Golden Lane. The Old Royal Palace is full of grand rooms and some small art exhibitions. St. George's Basilica was one of my favorite parts of Prague Castle, it has a beautiful red exterior and inside you will find a church that has been in existence for over 1000 years. Vitus Cathedral is THE highlight of Prague Castle. It is the first place that you see during your visit. It has beautiful stained glass and is the burial site of many patron saints. The last part of Prague castle is the Golden Lane. It is fun to explore this medieval neighborhood. Walk throughout all of the houses and see the barracks with old weapons on display. Be careful on the narrow stairwells and low clearance doorways. When you walk out of the Golden Lane, you will be brought to a lookout of the city. Near this lookout, there is a tunnel that leads downwards which will bring you to an old prison. It is extremely ominous and you can see some real medieval torture devices.
Charles Bridge
The Charles Bridge is one of the highlights of visiting Prague. This bridge is pedestrian only and can be extremely busy, so I recommend walking over it only a couple of times if you want to be quick. Charles Bridge used to be the only connection between town and the castle, so it was very important. The Bridge has a watch tower which you can go up and visit for 100 CZK ($4 USD), but the queue is long most of the time and I didn't think it was worth it. The best part of the bridge is the vendors lined along the bridge. Some of them are extremely good artists and I recommend buying a piece off of them instead of a touristy mug/keychain. There are also 30 statues lining the sides which depict various saints. Many of these are replicas of the originals which are now held in the Lapidarium. More information about the Charles Bridge in Prague can be found here.
Lennon Wall
The Lennon Wall is amazing and demonstrates a victory over communism in Prague. It is called the Lennon Wall because one of the first pieces painted on the wall was a portrait of John Lennon. To young people of Prague in the 80's, Lennon was a symbol of western culture and liberalism. Young people continued to speak out against the communist regime by painting messages on this wall. Every time the police repainted the wall, it would be covered in messages soon after. Since communism fell in late 1989/early 1990 in Prague, this wall has been used for various political messages and art-pieces. It is amazing to see the wall and the individual messages expressed by people in Prague. If you're lucky enough, you will see an artist painting a new addition onto the wall.
Zizkov Television Tower
Zizkov Television Tower in Prague is one of the most unique towers I've ever seen. It has been declared as one of the ugliest buildings in the world before because of its design. On the poles of the tower, you can notice the babies crawling on the poles. These were attached after construction in 2000 and were designed by famous Czech artist David Cerny. He has many pieces and I will talk more about him later in this post. You can get to the Zizkov Television Tower using the tram. You can take many different numbers and all of them will get you close to the tower, use Google Maps as your transit guide. You can visit the tower with a 360-degree view of Prague for 250 CZK (10 Euro or $11 USD). This is the cheapest price I ever paid to get a panoramic view during my travels. Believe it or not, one of the boxes is actually a 1 of 1 hotel room, and there is also a restaurant you can visit.
Letna Park
If you want to spend a part of your day like a local in Prague, talk a walk across the river to Letna Park. I recommend going to the Metronome and sitting along the wall to admire the view of the city. Bring a few bevs with you to enjoy with the local twenty and thirty somethings hanging out in the area.
David Cerny Statues & Artwork
One of the best recommendations I ever received for Prague was to take a walk to all of David Cernys nearby works in one day. I did this on the same day as the Prague Castle since he has several works on that side of the Vltava River. From Prague Castle, walk down towards the bridge to see "Piss", two statues, in motion, peeing into the water below them. Grab some mulled wine or gingerbread from the stand near this monument as well! Afterwards, walk along the river to find the Crawling Babies at Kampa Park. These are the same babies that are crawling up the Zizkov Television Tower. After these, continue your walk along the river to the large park which would be a perfect place to take a break before walking back across the Vltava. The first stop back on the other side of the river will be the Embryo Drain Pipe, followed by the Hanging Sigmund Freud.
3 Day Itinerary for Prague, Czech Republic
Day 1 in Prague
I believe your first day in Prague should be done exploring the city. One of the best ways to do this is to do quick stops among most of the monuments. If you're staying in Old Town, walk through Old Town Square, take a look at the Astronomical Clock. Then walk to the Charles Bridge, maybe go up the tower. Take a walk across the river and begin your David Cerny walk that I recommend above. Make sure to take a break on Shooter's Island Playground underneath the bridge. It is a great place to hang out when the weather permits. Afterward, grab lunch if you haven't already and take a walk down Parizska Street, the luxury street in Prague. Then go to one of the museums or galleries nearby before dinner.
Day 2 in Prague
I think you should make your second day in Prague the busier day. Today you should do Prague Castle and the surrounding areas. Walk across the river up to the castle and watch the changing of the guards. You can explore the shops in the free area of the castle grounds before entering the paid area. Go through security, buy your ticket, and enter the castle to explore grand cathedrals and medieval buildings. After you're done at the castle, go down back near Charles Bridge, there is a place called Lokal nearby. Go here for lunch before visiting the Lennon Wall. Walk back across the Vltava River to another museum or gallery before dinner.
Day 3 in Prague
Your third day in Prague should be a little more relaxed. Your first activity should be taking a trip to the Zizkov Television Tower. Go up to the top of the tower to the observation deck, you can choose to get lunch here or in the area. Make your way back to Old Town using the tram. Make sure to stop by a convenience store to buy a few drinks before making your way across the river to Letna Park. It is also a good idea to grab food to go or make a lunch to take up here as well if you'd like. Once you are done up here, take a walk around the park before walking down. This will be your opportunity to see things again as your last night in Prague, whether it be the Prague Castle, Lennon Wall, a David Cerny statue, or Charles Bridge. I recommend you spend at least part of this night before dinner in Old Town Square.
Where to Eat in Prague
Lokal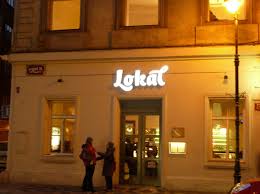 Lokal is a beer hall with great food and unlimited sides. They have two locations in Prague, one near the Palledium Mall and the other near the Charles Bridge. I've been to both and the quality is great at each location. The food is wholesome and beer is cheap and refreshing.
Agave Restaurant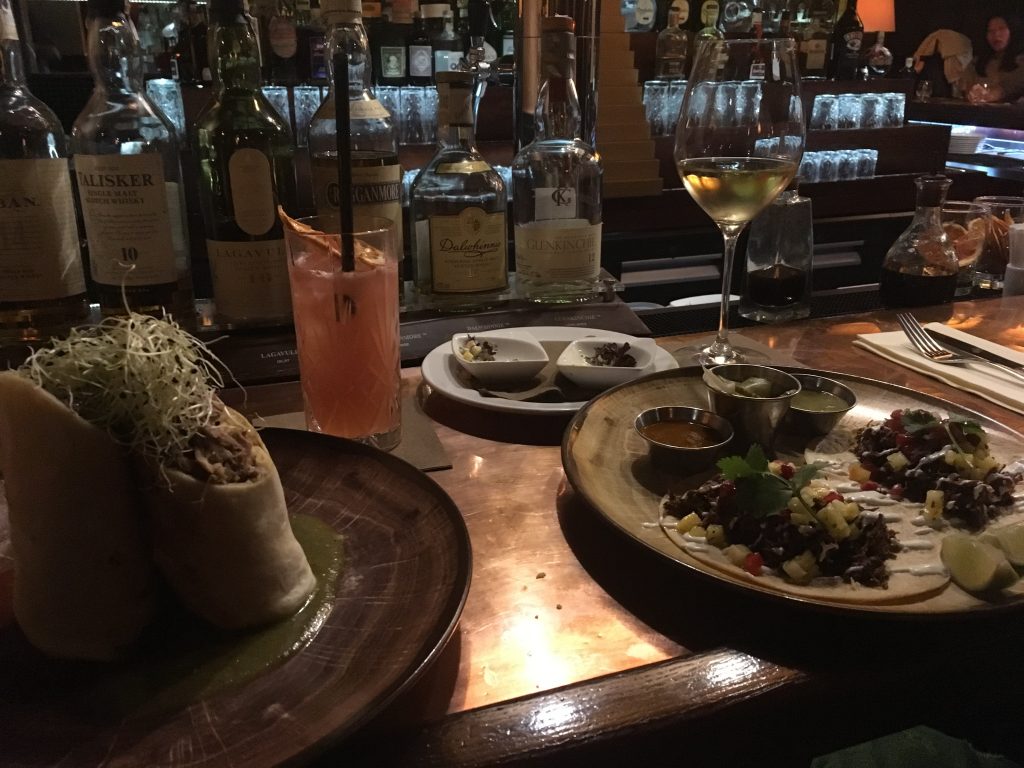 Agave is a Mexican restaurant in Prague which is more expensive than most restaurants in the area. I know what you're thinking, why would I eat Mexican in Prague? Agave is a higher-end Mexican restaurant which is unlike any Mexican restaurant I've ever been to. It has a beautiful interior, amazing food, and great drinks. Make sure you make reservations in advance if you're going on the weekend.
BeefHouse & Crazy Cow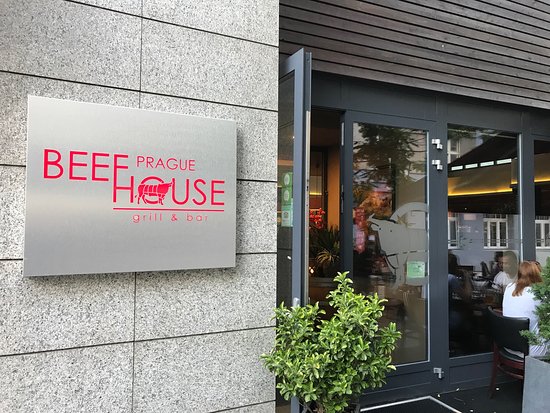 Both BeefHouse & Crazy Cow are steakhouses in Prague as you may have guessed. Crazy Cow is centrally located, near Old Town Square. BeefHouse is a little bit of a walk North from the Palledium Mall. Both restaurants have similar fares, similar prices, but I believe that BeefHouse is slightly better and larger. It is always nice to get away from the touristy crowd, but if you want to go to Crazy Cow for the location, it is not a bad option at all.
All of the Cocktail Lounges & Bars in Prague
First and foremost, Prague is a party city if you like that scene. Drop into one of the many cocktail lounges that have the atmosphere of a speakeasy. I'll list a few good recommendations here in no particular order. Bugsy's Bar, Black Angel's Bar, L'Fleur, & Hemingway Bar.
Where to Stay in Prague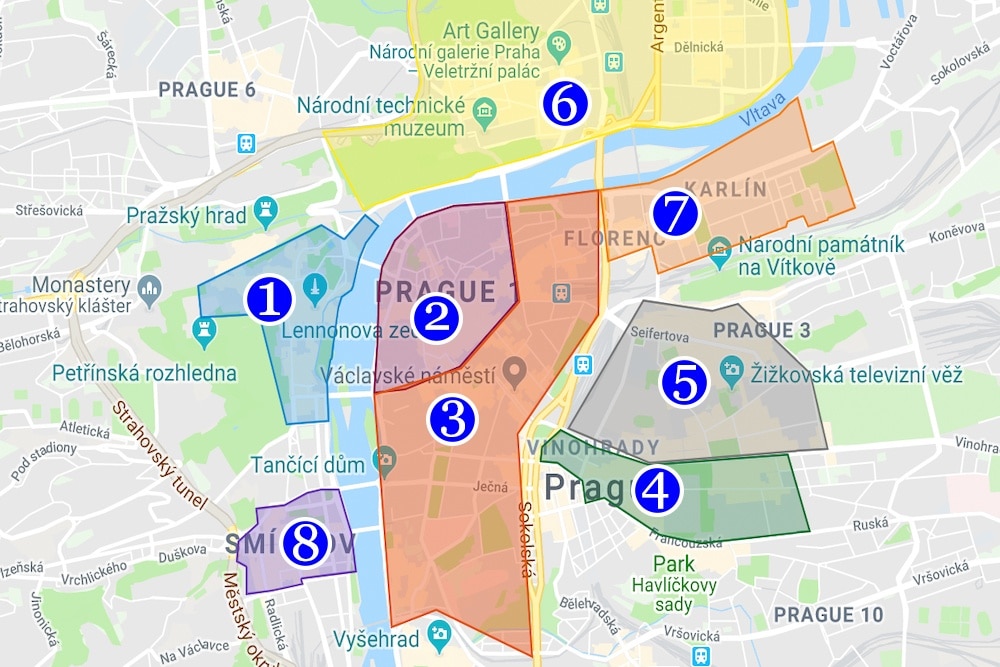 Here is a map of the main tourist area in Prague. You most likely want to stay in areas labeled 1 (Mala Strana), 2 (Stare Mesto & Josefov), or 3 (Nove Mesto). The best option is Stare Mesto because of its vast amount of good restaurants, accessibility to transportation, and nearby most monuments. Mala Strana is the same side as the Prague Castle. Parts of Nove Mesto can be more affordable than Stare Mesto but just as close to many monuments, so keep that in mind.
Transportation: How to Get Around Prague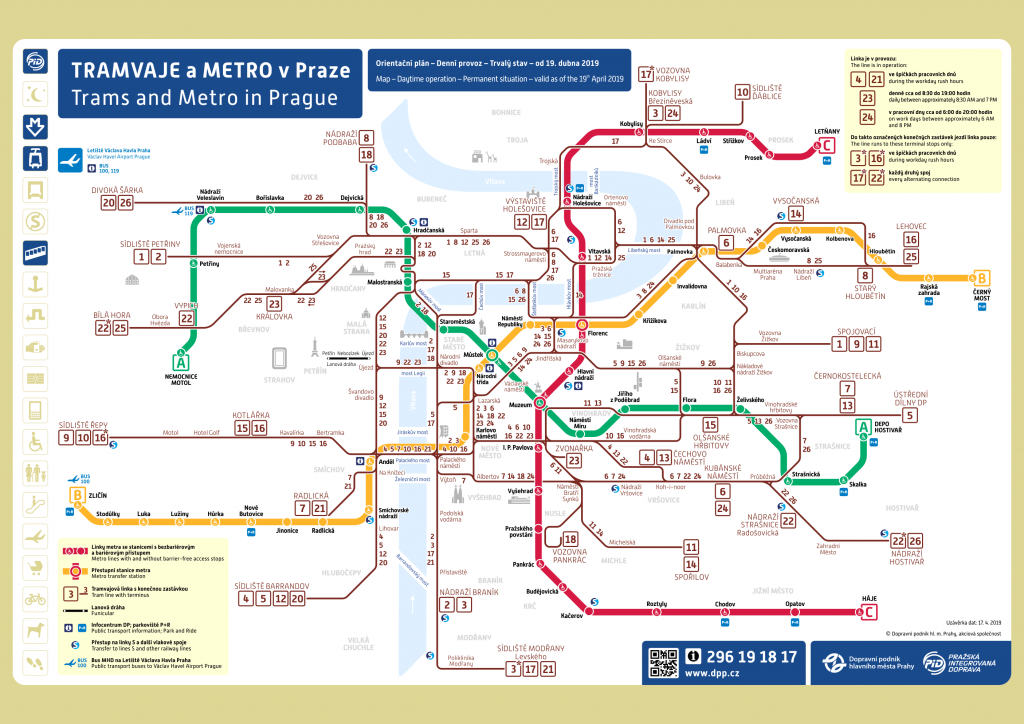 Here is a map of just the tram lines in Prague. If you have a 3 day stay in Prague, it is unlikely that you will need transportation other than the tram. Public transportation is very easy and cheap (24 CZK or $1.10) for one way ticket. Make sure you buy the ticket before and validate it once you are on the tram. More information about Prague public transport and the app used to buy tickets is available here.
Currency in Prague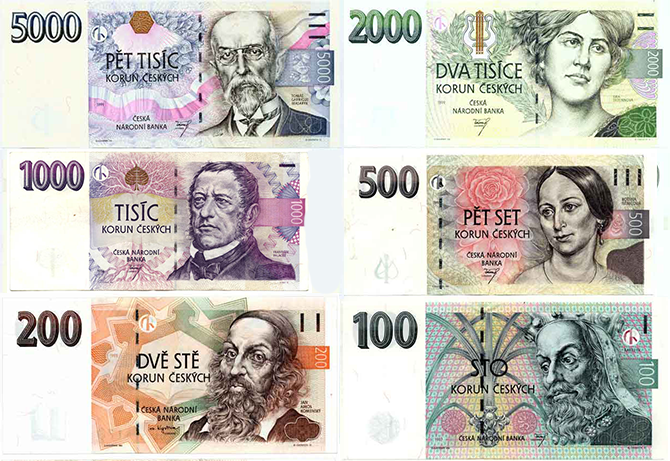 Here are the Czech Koruna (CZK) notes, there are also many coins with various values. For the sake of simplicity, think of 1 CZK as about $0.05, so 20 CZK = $1 USD or 1.10 Euro. A typical dinner in Prague is relatively cheap at around $25 USD for two at an average restaurant.