Sights & Attractions of Milan, Italy
Duomo di Milano
One of the most beautiful churches in the world, the Duomo di Milano was first constructed in 1386, then finished in 1965. It is impressive how many generations of architects and engineers worked on the construction of the same church. This is one of the main reasons why there are many different styles incorporated into its design. The most notable is the Gothic style with the intricate spires surrounding the exterior of the cathedral. Some criticize the Duomo di Milano because of its illogical order but I think it makes it one of the must-visit churches in Italy. One of the best parts of the Duomo di Milano is that you can purchase a ticket to visit the roof for stunning views of the city. The tickets are relatively cheap and you can buy them at the ticket office nearby or online here. If you do not care too much about walking upstairs and aren't claustrophobic, you can buy the stairwell ticket for 13 euros. If you'd rather take the lift (which may have longer wait times), you can purchase the lift ticket for 17 euros. More information about tickets and online booking available for the Duomo di Milano available here.
Galleria Vittorio Emanuele II
Milan is home to Italy's oldest shopping mall, Galleria Vittorio Emanuele II. This landmark is named after the first king of the Kingdom of Italy and it was built in 1877. Here you will find touristy restaurants, cafes, bars, luxury stores, and various craft shops. If you would like to explore a lot of these shops then I recommend going to the Rinascente Milano shopping mall with 8 floors attached to the Galleria. The very top floor has restaurants, two of which have decks that are eye-level to the Duomo.
San Bernardino alle Ossa
You must take a short, but necessary trip to San Bernardino alle Ossa. This church is no more than a five minute walk from the Duomo. I had one of my most memorable experiences in all of my travels here. You may visit for free but there is a recommended donation (please donate!). When you walk into the church, you may sit down and look around, but make sure you visit the small side chapel. It is directly to the right of the entrance when you walk in. Stroll through this ominous hall and you come upon a room where all of the walls are decorated with skulls and bones. In 1210, this room was built to house bones from the cemetary since they ran out of room. They have been here ever since and the feeling is incomparable. After my journey to Palermo, I was reminded of this room when I visited the Catacombe dei Cappuccinni. Make sure you sit here for at least a little while to process this unique place, you might find yourself lost for words once you leave.
Castello Sforzesco
Castello Sforzesco (Sforza Castle in English), is one of the largest citadels still standing in all of Europe. The castle itself is about a 15-minute walk or less from the Duomo and definitely a must-see. When you walk up, you will see a beautiful fountain surrounded by merchants trying to scam you, just walk by and ignore them. Once inside the castle grounds, there are multiple museums and galleries ranging from halls of old instruments to Michelangelo's last version of the Pieta (Rondanini Pieta). Note, that you may walk the castle grounds for free, but you cannot enter the museums without a ticket. Admission at the Sforza Castle will only cost you 5 euro, so even if you're somewhat interested in one part of the museum, you should most definitely purchase a ticket. More information about the Sforza Castle and tickets can be purchased online here. Additionally, there is a restaurant on the castle grounds which isn't too bad if you plan to spend a decent portion of your day there.
Santa Maria delle Grazie & Leonardo da Vinci's Last Supper
Santa Maria Delle Grazie is close to the Castello Sforzesco, mostly because it served as the Sforza family burial site. The building was completed in 1497 but much of it was destroyed in 1943 because of bombings from World War II. One of the only walls that survived was the one that held the infamous Last Supper by Leonardo da Vinci. Members had put sandbags in front of this wall in preparation for the bombings and potentially saved one of the most valuable artworks to this day. The reason many tourists visit Santa Maria Delle Grazie is to see Last Supper. Unfortunately, I was not able to see this unique, large masterpiece, but I will tell you how you can! It is somewhat expensive in terms of other sights you can see in Italy for 25 Euros. It includes an audio guide app because the typical guides are not available due to the Coronavirus. The typical price is 15 Euros, but I would keep up to date with price changes on this website. You can find all of your information on Santa Maria Delle Grazie and tickets for Leonardo da Vinci's Last Supper, here.
Pinacoteca di Brera
Located within the Palazzo Brera, The Pinacoteca di Brera is one of the most infamous art galleries in Italy. Synonymous with the Uffizi in Florence, this museum contains many religious works dating from the 15th century. Notable artists include Raphael, Caravaggio, & Giovanni Bellini. Currently, visits to the Pinacoteca di Brera are free! Make sure you plan your visit online on this website and you can also find more details about their gallery here.
3 Day Itinerary for Milan, Italy
Day 1 in Milan, Italy: Duomo di Milano, Galleria Vittorio Emanuele II, & San Bernadino alle Ossa
Day 2 in Milan, Italy: Castello Sforzesco & Santa Maria delle Grazie
Day 3 in Milan, Italy: Pinacoteca di Brera & Navigli District
Where to Eat in Milan, Italy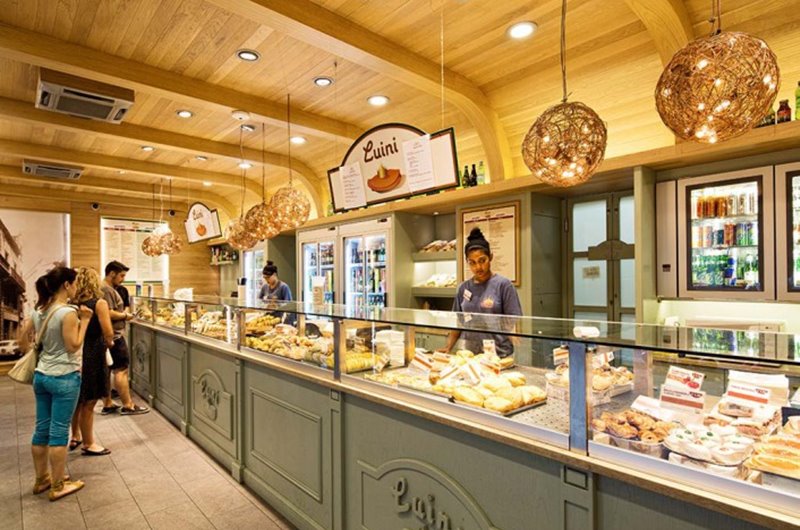 One of the most famous places in all of Milan, Panzerotti Luini serves up amazing panzerotti for a quick street food lunch. Panzerotti are essentially mini calzones, they are made of dough, fried or baked, stuffed with savory or sweet fillings. At 2.50 Euro each, I recommend getting at least one savory and one sweet to try. Make sure to go here early in your trip, because you will definitely want to visit again.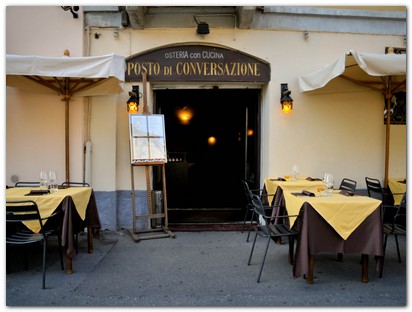 The Navigli District in Milan is a beautiful area full of canals and a bustling nightlife. Go here for an aperitive after your long day of exploring Milan, then have dinner at Posto di Conversazione. This restaurant prepares fresh pasta and has some of the best in Milan. Make sure to call before and see if you can make reservations as it's often booked.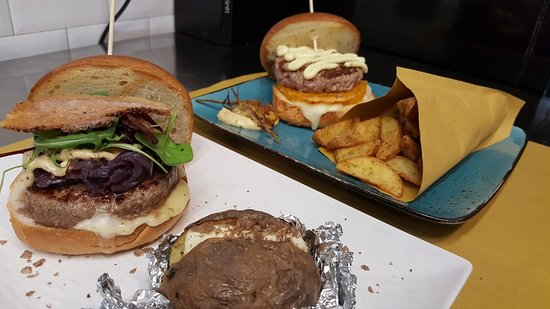 TheLab is a little out of the way if you're staying in the center of Milan, but it is well worth the trip. This burger place experiments with your tastebuds with unique burger combinations by using amazing local ingredients from northern Italy. This is a small place so make sure you make reservations before. TheLab is the perfect place for someone wanting something different, or a taste of home.
Where to Stay in Milan, Italy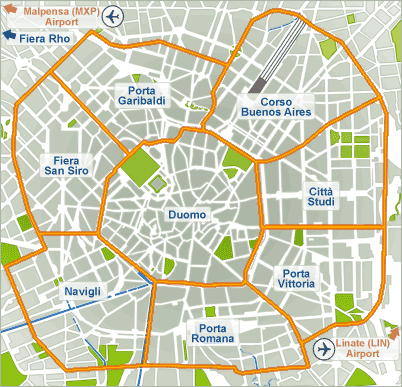 The map to the left labels all of the areas of Milan. During my stay, I was in an Airbnb in the "Duomo Zone" or Zone 1. It is relatively easy and inexpensive to find a place to stay in this area. I was able to stay in a private room, for two nights, for $227 USD. I highly recommend staying in this central location, especially if you are only staying for a few nights.
Transportation: How to Get Around Milan Italy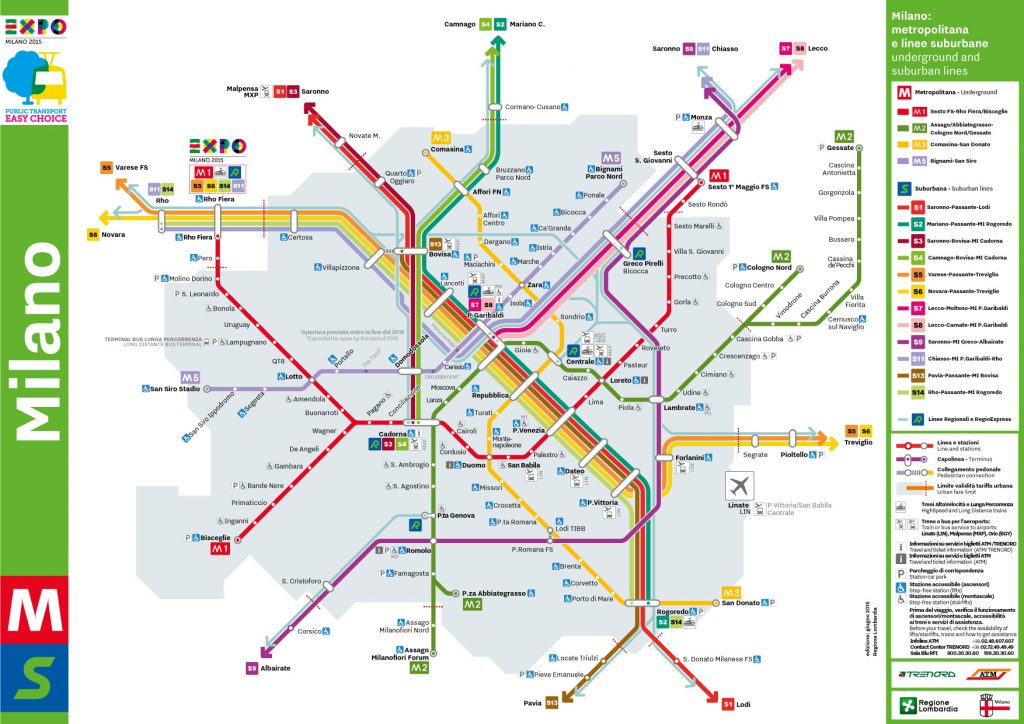 Since Milan is one of the most expansive cities in Italy, it has excellent infrastructure. This means that Milan has a great metro, tram, and bus systems available throughout the city. You can buy several different passes including single tickets, 24 hours, and 48 hour passes. This public transport passes cost 2 Euro for single-use, 4.50 Euro for 24 hours, and 8.25 Euro for 48 hours. For more information regarding transportation in Milan, Italy, you can go here.
Currency used in Milan, Italy
Milan uses the Euro and will be about the average price for tourist activities and dinner. A typical dinner for two will most likely cost around 35 euros or $40 USD.