Sights & Attractions of Sorreto, Capri, & Pompeii
Sorrento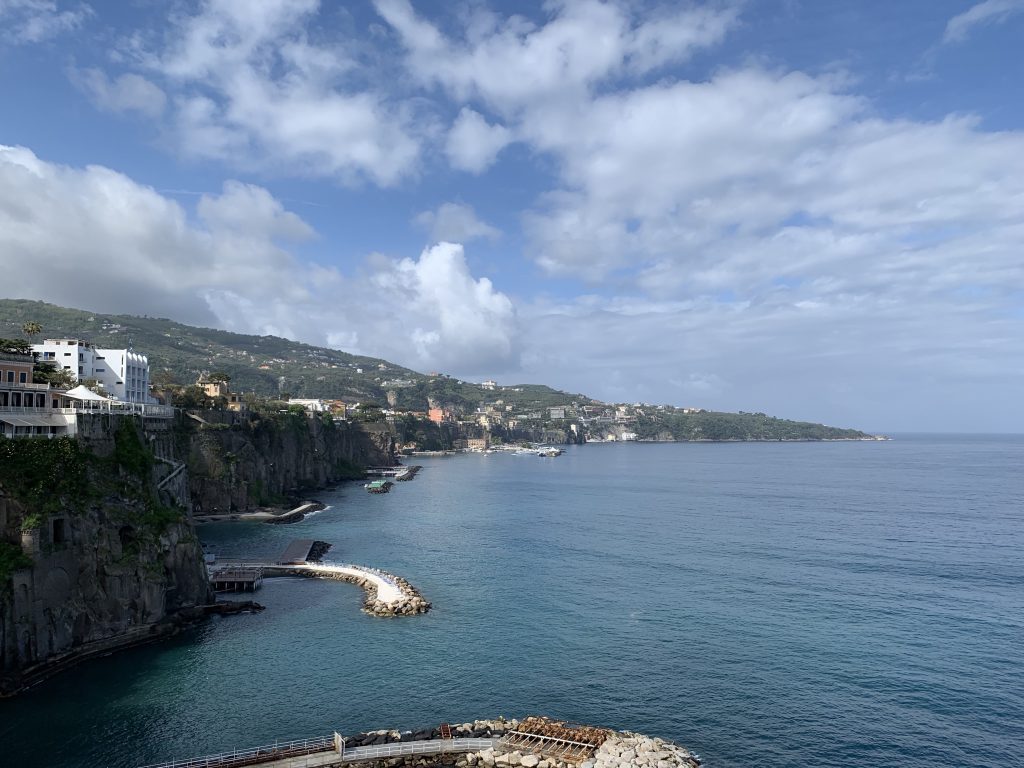 The town of Sorrento is the perfect place to stay for a few days if you want Amalfi Coast views and location without the price. In my opinion, Sorrento is amazing and has a much better charm than many of the Amalfi Coast towns. There are many things to do in town, as well as in the area. Walk around the downtown area to find yourself at the beach, on streets littered with shops, and a piazza with views of Vesuvius.
Capri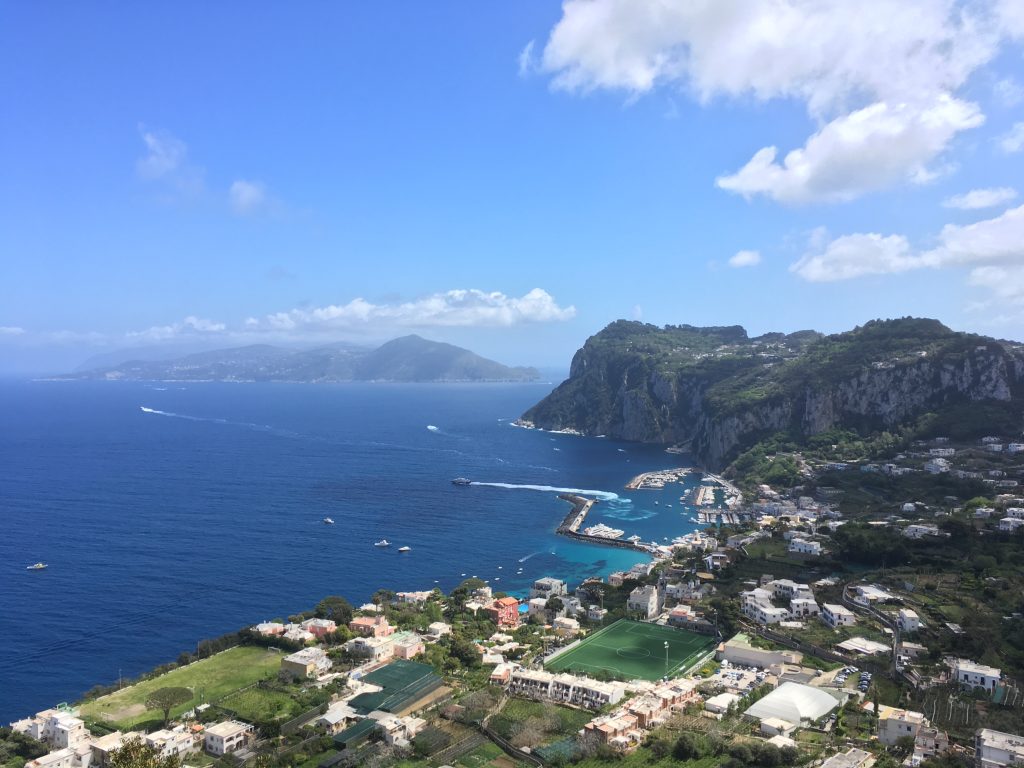 Capri is a must-see if you're staying in Southern Italy. This island is expensive to stay at, so you'll likely be taking the ferry from another town you're visiting. You could choose to do a boat tour as part of that ferry. I'd recommend doing the large boat that brings you around the island, shows you the grottos, then leaves you with free time on the island. These tickets will cost around 50 euro compared to the 30 euro (Round trip) ticket you'd pay for the ferry. Make sure to pack a few snacks, because you will most likely be spending your whole day on the island.
Monte Solaro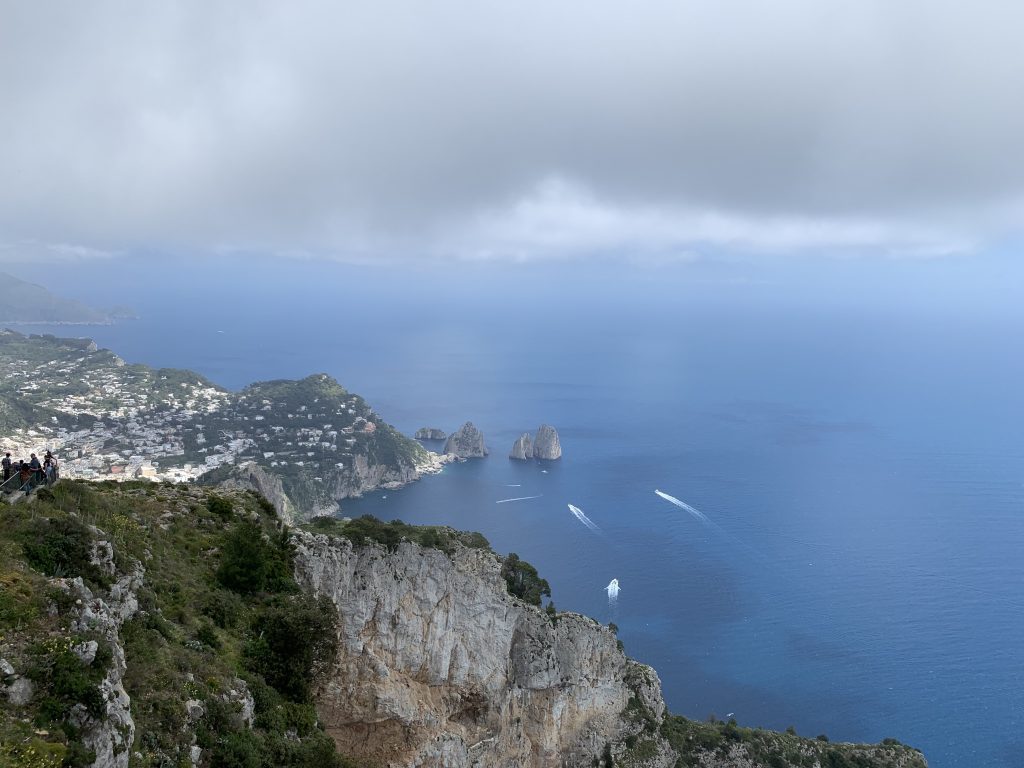 If you have free time on Capri, you must visit the highest point, Monte Solaro. There is a chairlift in Piazza Vittoria in a small town named Anacapri. Now, you can walk here from the main port, it's all uphill and will take about an hour but it's a beautiful path. Once in Anacapri there is a chairlift, or you can keep walking. The chairlift will take about 12 minutes and is an individual chairlift. It costs 12 euro round trip, 9 euro one way. Don't be too worried about heights as the chair leans back so you don't feel like you're in danger, besides the views are worth it. If you go up there later in the day, your head will be in the clouds (like in my picture here). There is a small cafe for snacks and refreshments here as well, but I'd recommend bringing some snacks from somewhere else since it is quite expensive.
Belvedere di Tragara Lookout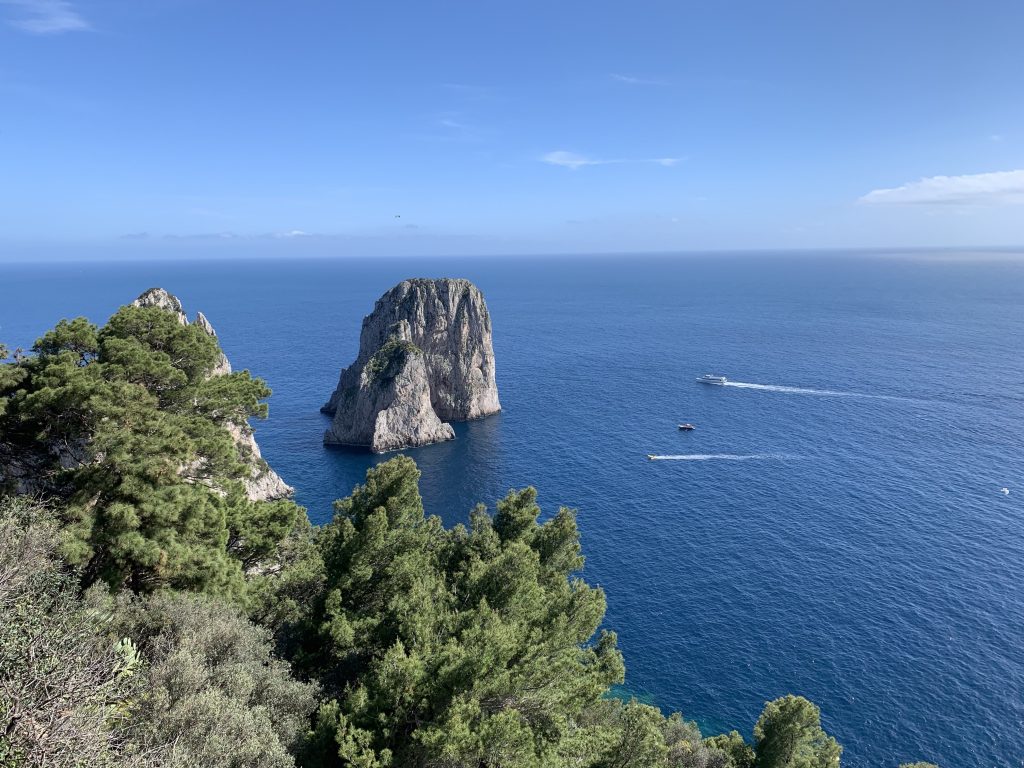 One of the lookouts for the iconic Faraglioni, I believe that this one gives you the best views. A good thing to know is that almost every lookout and path on Capri has a sign. If you want to, use google maps and put in Hotel Punta Tragara, the viewpoint is directly next to this hotel.
Blue Grotto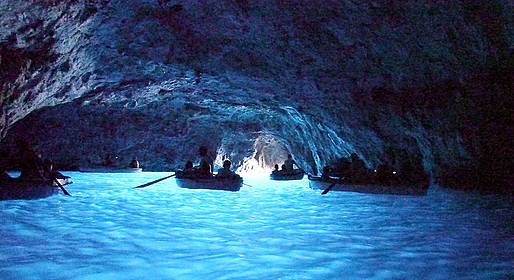 The Blue Grotto in Capri is one of the most sought out destinations. I never went to the Blue Grotto and I am not going to try to sell its beauty. From everyone I know, I have heard that it is a complete rip off for your time and money. You will have to pay 14 euro per person, wait until a boat becomes available then you will spend a very short amount of time in the crowded grotto (under 5 minutes). My main point is that if you're only going to have 8 hours on this island, then I think that there are better things to spend your time on.
Pompeii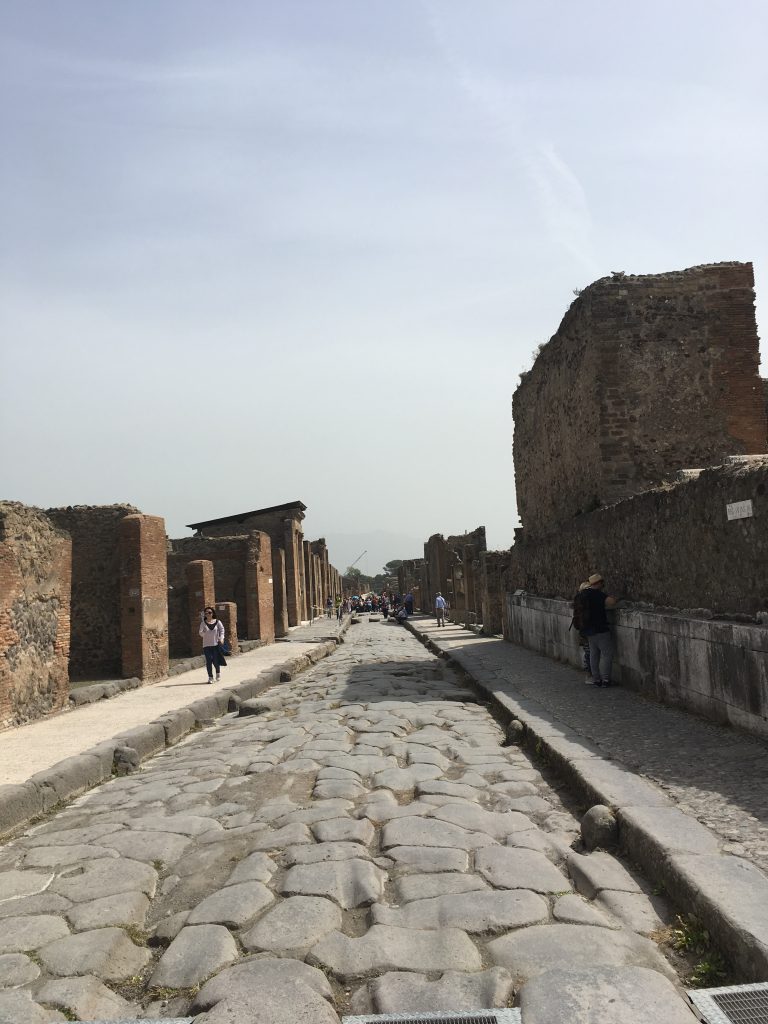 I'm not sure how to describe the ruins of Pompeii, but it is a truly surreal experience to walk around this once flourishing city. The best way to get here is the Circumvesuviana train and get off at the Pompeii stop. The entrance is very close to the stop and there will be long lines. Make sure you purchase a ticket from an official Pompeii vendor, there are many people selling knock-off tours and tickets in the area. Like many other things, you can book a private tour if you'd like, but I prefer to do my own walk and go on my own schedule. The tickets will cost 16 euro for the day and there is a luggage deposit available at the Pompeii entrance for free. Since Pompeii is so large, I recommend spending around 3-4 hours here. I used Rick Steve's Audio guide to help navigate my walk around the ruins of Pompeii.
Herculanem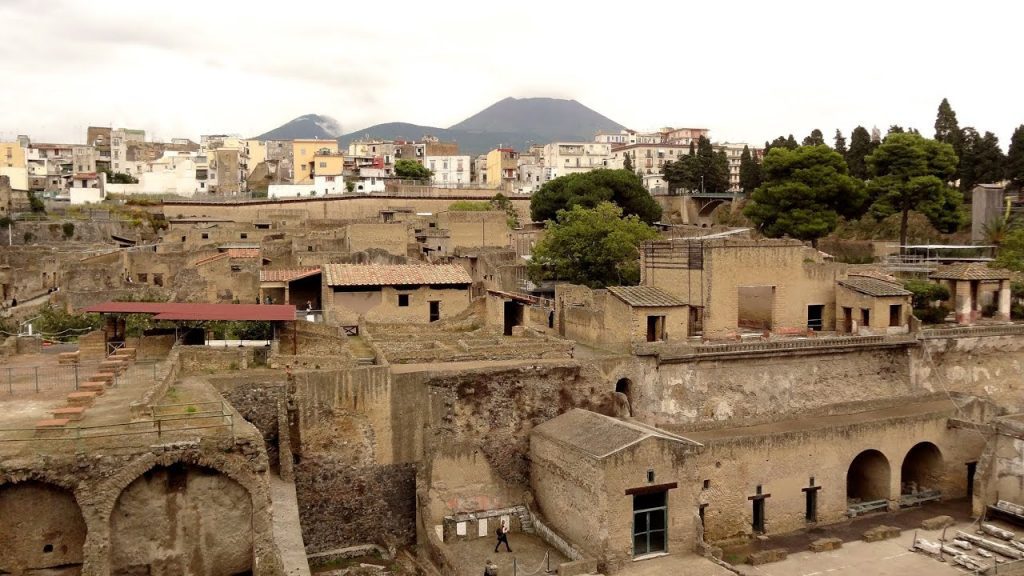 While much smaller, Herculanem is much more preserved than Pompeii. If you don't want to walk too much or spend too much time here, then Herculanem is a good alternative to Pompeii. The tickets will cost 13 euro for the day. You could use an audio guide for here as well since there is so much history in each monument in Herculanem.
Mount Vesuvius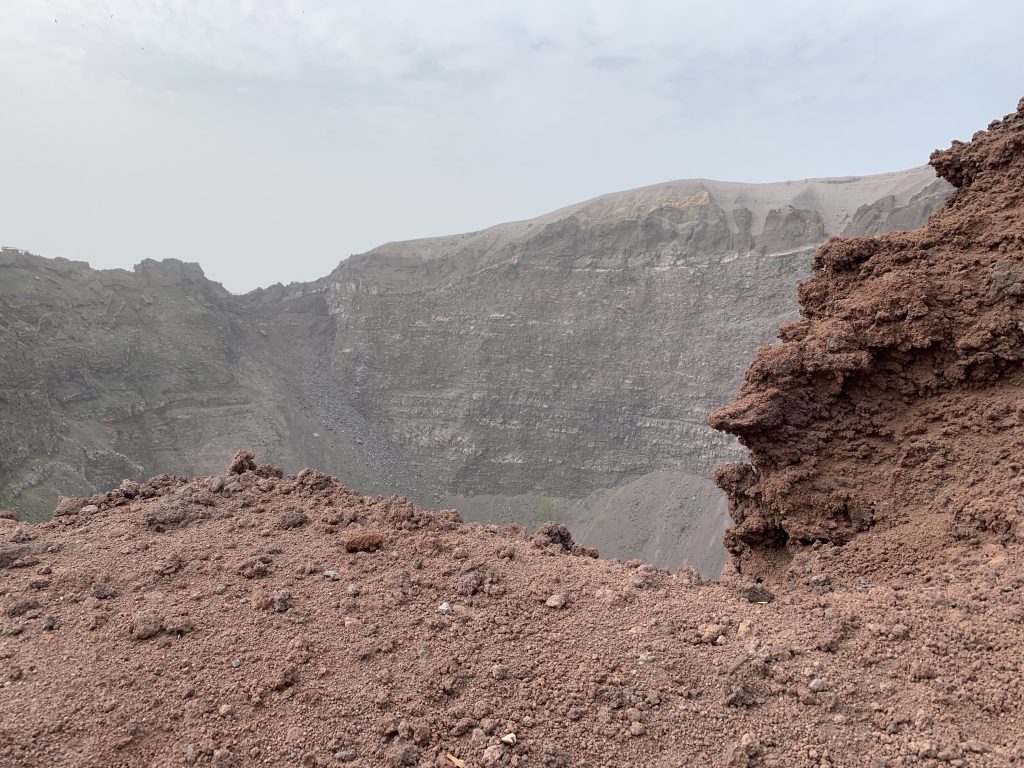 If you have your whole day planned around visiting Pompeii, I'd recommend making a trip up to Mount Vesuvius while you're there. There is a ticket office outside of the back entrance of Pompeii (by the old colosseum area) to buy tickets for a shuttle up to Vesuvius. These might be a little pricey at around 22 euro, but they will be your best option for getting up there if you don't have a car. The service includes entrance to Vesuvius and brings you right to the base where the ticket office is. Be careful on the windy climb up, the paths are wide, but steep and almost all loose rocks/dirt. Although, once you get up there you get to see extraordinary views from on top of the volcano and take a peek inside of Vesuvius. Make sure if you use this shuttle service, that you tell them to drop you off at the Pompeii Circumvesuviana stop!
3 Day Itinerary for Sorrento, Capri & Pompeii
Day 1: Sorrento/Home Base
Explore your home base in Sorrento. Walk around the streets of Sorrento with all of the shops selling every lemon/limoncello product imaginable. Take a walk to the Municipal Villa and walk down the ramp to Via Marina Piccola. There will be several places where you could rent a chair or beach towel and lie down on the piers. You can take a whole day down here if you'd like but I preferred to walk around the town. Walk back up the path after relaxing on the beaches, then take a trip back into town and get lunch. Then visit Villa Fiorentino Park and Museum, which is all free (some time inside might be nice if it's especially warm outside). Take some time afterward to explore shops, grab a drink somewhere and look for a place to eat dinner.
Day 2: Pompeii & Vesuvius
Take the Circumvesuviana train from the Sorrento or Sant'Angnello stop. Each of these stops has a ticket office where you buy tickets for your destination. The train will take you around half an hour to Pompeii. Once at the Pompeii stop, you will walk past a cafe and tourist shop towards the entrance. Lines can be long, so be prepared to stand and sit in the sun for a while. Like I mentioned earlier, I used Rick Steve's Audioguide for Pompeii. I found it very helpful since Pompeii is quite large and has lots of history for each section. You can find his audioguide here. Make sure to sit down every now and then in Pompeii to rest, because you will be here for a while and you will be sitting in the Sun. I encourage you to pause Rick Steve's audio guide whenever you'd like to look more closely at the monuments. Once done with the audioguide, walk down towards the Amphitheater and look around, there is a museum to walk around a little bit. Once finished in that area, you can proceed out of that exit. Once outside of this exit you will see a travel agency next to a pizza shop. Stop into that travel agency and you can buy tickets up to Vesuvius. The buses run about every hour. They will take you up to the mountain, and pick you back up in an hour. Come down and find the people you took the bus with and wait with them for the shuttle. The volcano near the box office can be a mess with all of the people trying to find their shuttles, so make sure to try to stay with your people. Once done, make sure you tell the driver to drop you off at the Pompeii train station to get back home and enjoy dinner back in Sorrento.
Day 3: Capri
From Sorrento, you can book a boat tour to Capri. The one that I took only included a guided tour around the island and ferry ticket, with free time on Capri. Looking back, I wish I had done one of the all-inclusive tours with lunch, bus tickets, and free time built in. I think this ticket is best for the value. Although it depends on what works best for you. Some people want to have free time for themselves at a cheaper price and don't like the planned itineraries. Either way, the general layout will provide transport to the boat to Capri (a harbor about 15 minutes away), they take you around the island of Capri, showing you all of the various grottos. They also take you under the famous Faraglioni rock formation. Then you will arrive at the island of Capri. From here, you will take a bus or walk up to Anacapri and take a chairlift from there to Monte Solaro. Hang out there for a little by the cafe and then come down to spend some time in Anacapri. You can then take a bus or walk down to Capri, find a place to eat. Then walk over to the Belvedere de Tragara lookout for one last look at the Faraglioni Rock Formation before you depart Capri.
Where to Eat in Sorrento, Capri, & Pompeii
Sorrento: Il Ruttino
A small restaurant in the town of Sant'Agnello near Sorrento, this is right next to Hotel Crawford. If you're staying in this area, you must go to Il Ruttino. The staff there was exceptionally friendly and I had a woman standing outside encouraging me to eat there every night of my stay. I finally went and didn't regret it. They have good pizzas and cheap wine, enjoy your meal here in this small town restaurant.
Sorrento: O'Murzill
Another small restaurant, O'Murzill is located on a lowkey street in the middle of Sorrento. Try their local seafood dishes and signature Gnocchi all Sorrentina. They have a great selection of wine and desserts homemade daily. There may be a wait, but the queue is worth it.
Capri: Lo Zodiaco
If you're in Capri, you at least want an ocean view and central location, right? Lo Zodiaco offers exactly that, located right by the Marina Grande or main port of Capri. This restaurant offers beautiful views and plenty of traditional seafood dishes, and other typical Southern Italian dishes for non-seafood lovers. It is one of the most popular restaurants in Capri due to its location and price, so be ready for a wait if you visit during the busy season.
Pompeii: Stuzzico Ristorante
This restaurant is right outside of the back exit of Pompeii near the Amphitheater. If you have the time, you could sit down and enjoy a reasonably priced meal for such a touristy spot. You could also walk in and get sandwiches to go if you'd like to sit down somewhere else outside or if you're short on time. This place offers decent Italian fare and is one of the best you can get for being in an area as touristy as Pompeii.
Where to Stay for a Trip to Sorrento, Capri & Pompeii
Sant'Agnello: Hotel Crawford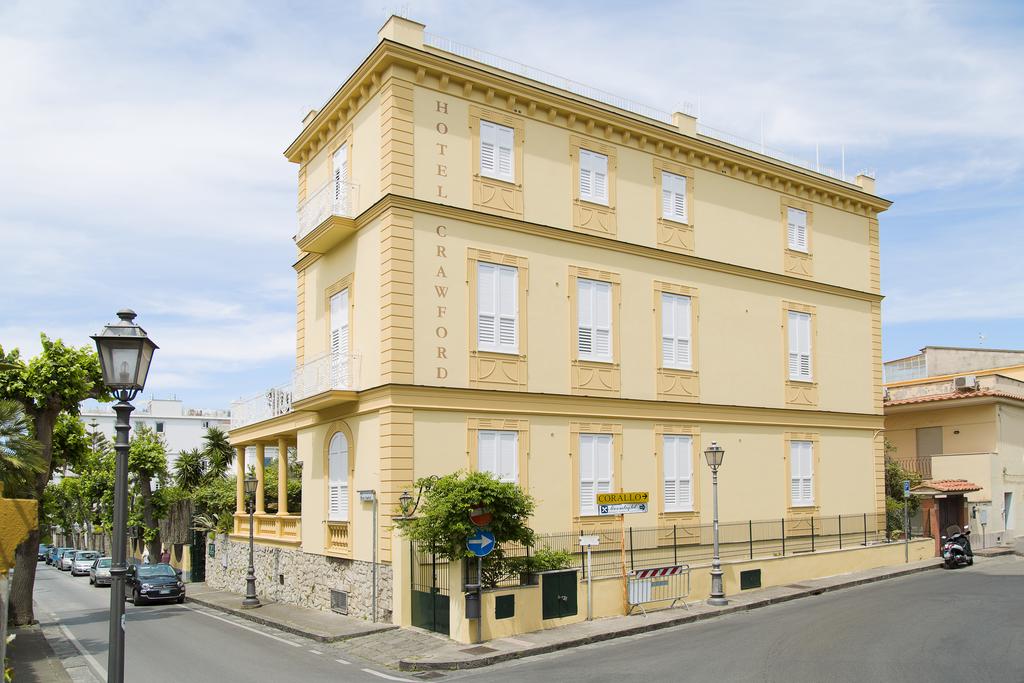 I think that Hotel Crawford was one of the best deals I found while traveling. It is in Sant'Agnello (a town outside of Sorrento) but is about a 15-minute walk to Sorrento City Centre. As a result this hotel is relatively low cost. It has 4-star accommodation and has a hot tub and roof deck to provide stunning views of Sorrento. The staff there was so helpful. There is a free breakfast with lots of options provided with your stay. The hotel has plenty of options for excursions as well for your convenience.
Public Transport for Sorrento, Capri & Pompeii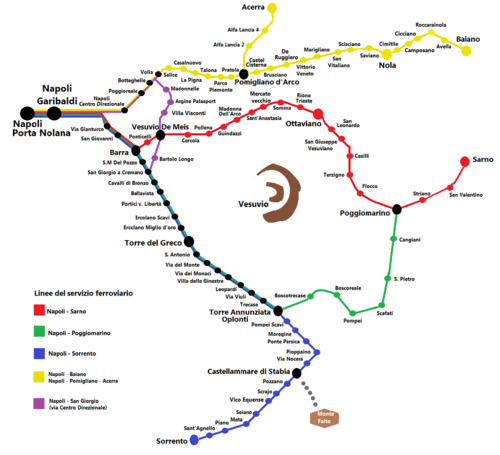 The Blue line is the line you will most likely take throughout your trip. It starts off in Naples, where it will be very crowded, keep an eye on your stuff and your pockets on this loud but safe and efficient train. It will be around 4 euro a person to get from Naples to Sorrento. This train will take you about 1 hour and 15 minutes. If you are only traveling to Pompeii then it will take about 40 minutes and cost closer to 3 euro.
Currency in Sorrento, Capri, & Pompeii
Italy uses the Euro, which is currently exchanged at $1.10 for 1 Euro. So it's not that much more expensive, but keep in mind that you're always spending 10% more. This might not seem like a huge difference but a 40 euro meal turns into a $48 meal.