Public Transport in Berlin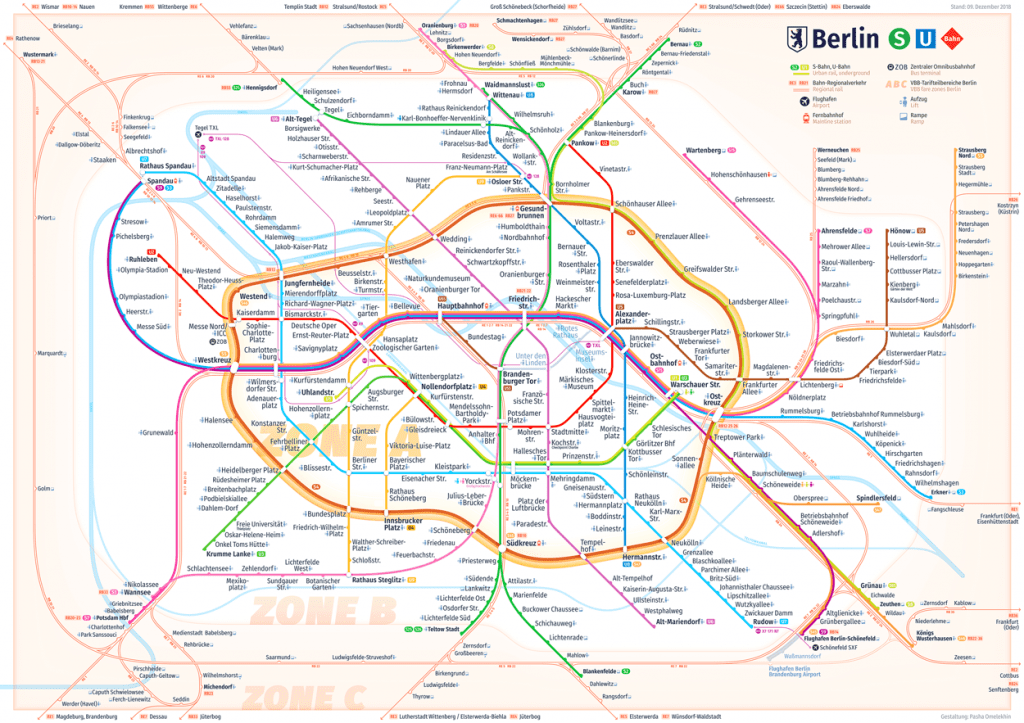 As you can see above, Berlin has an amazing public transport system. You should take advantage of the metro, bus lines, and tram lines that frequently run through Berlin. Tickets will cost 2.00 euro one way for short trips. If you plan on using the train often in one day, there are day passes available as well. More information about Berlin transportation found here.
Approximate Prices for Public Transport in Berlin
Short Distance (3 stops metro, switching trains allowed & 6 stops buses/trams) : 2.00 Euros ($2.38 USD)
Travel within AB (2 hour journey): 3.00 Euros ($3.56 USD)
Zone BC (2 hour journey): 3.50 Euros ($4.16 USD)
Zone ABC (2 hour journey: 3.80 Euros ($4.51 USD)
24 hour pass (AB): 8.80 Euros ($10.45 USD)
24 hour pass (ABC): 10.00 Euros ($11.88 USD)
7 day pass (AB): 36.00 Euros ($42.76 USD)
7 day pass (ABC): 43.00 Euros ($51.07 USD)
Berlin WelcomeCard 48 hours – 23.00 Euros ($27.32 USD)
Berlin WelcomeCard 72 hours – 33.00 Euros ($39.19 USD)
Group 24 hour pass (5 people): 25.50 Euros ($30.29 USD) for AB, 26.50 Euros ($31.47 USD) for ABC
Other Useful Tips
Children from 6 – 14 can use reduced fares for rides, under 6 rides for free, discounts are also available for students.
If using lots of public transport in a short time, take a look at the 24 hour passes or maybe the Berlin WelcomeCard for discounts.
Validate tickets at train stations or inside trams/buses. Make sure you validate or else you will be subject to 60 Euros fine.
Tickets can be purchased in all metro stations from machines as well as ticket counters inside major train stations.
Use Google Maps for basic travel and Google Flights for plane fares
Check out the official site for Berlin public transportation here
Remember if you would like to learn more about any of the places included in my best public transportation tips for Berlin, Germany, then you can visit my all-inclusive guide for free here!