Public Transport in Vienna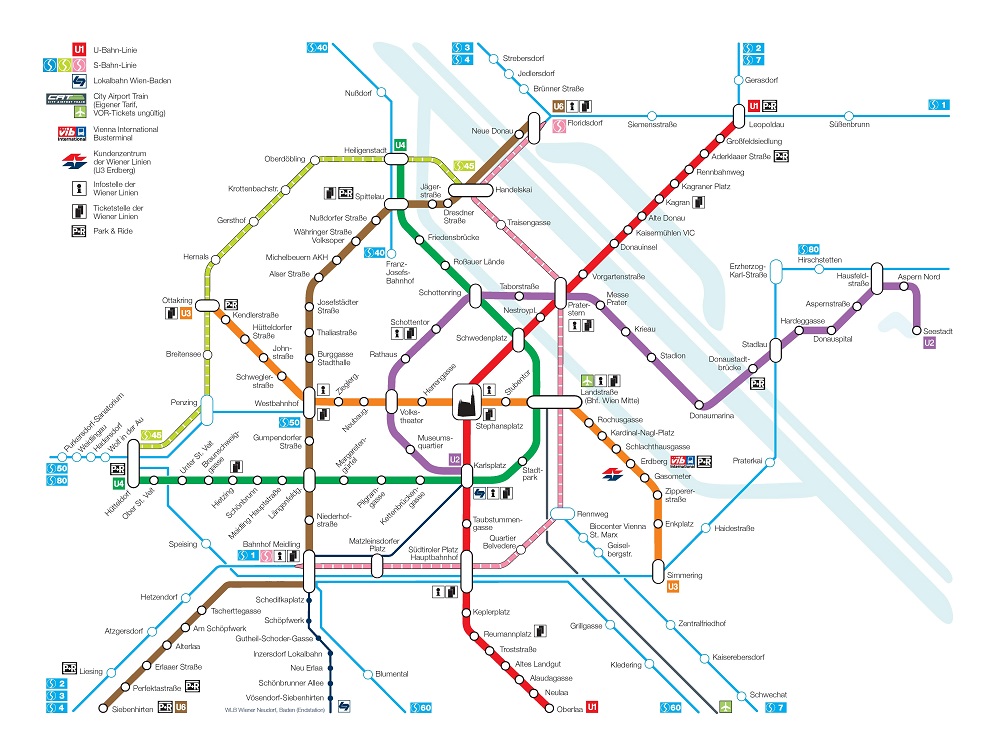 Here's the map of the public transportation system in Vienna. Public transportation is widespread throughout the city. Moreover, a lot of the attractions in Vienna aren't in the city center, thus require public transportation. This efficient system makes it much easier to explore these sights. For tickets, it's based on an honor system. You may hop on and hop off without being challenged, but there is a good chance you get a ticket. Vienna employs people to ride the trains and watch out for those who try to ride for free. A single ticket will cost 2.40 euros so the extended passes are good options. I bought the 48-hour pass, which cost 14.10 euros which lasted me almost my entire stay. You may also buy the Vienna Card, but most of the time these Card Services aren't worth it if you aren't going to use at least a few of the services through the Card. More info about the Vienna Metro here.
Approximate Prices for Public Transport in Vienna
Single ticket (one journey, one zone, all types of public transport) : 2.40 Euro ($2.86 USD)
24 hour pass: 8 Euro ($9.54 USD)
48 hour pass: 14.10 Euro ($16.82 USD)
72 hour pass: 17.10 Euro ($20.40 USD)
Vienna City Card 24: 13.90 Euro ($16.58 USD)
48 hours: 21.90 Euro ($26.13 USD)
72 hours: 24.90 Euro ($29.71 USD)
8 – day tickets, weekly, monthly, and annual travel passes are also available for purchase
Other Useful Tips for Public Transport in Vienna
Airport transfer will be a separate ticket since you are outside the city zone, there's an easy train that takes less than 20 minutes
If traveling with children, kids under 6 travel for FREE while children under 15 travel for discounted rates as well as for free on Sundays and public holidays
You may purchase Vienna public transportation tickets from all of these locations: ticket machines at metro stations, ticket machines inside of trams/buses (could be more expensive), WL ticket offices in major train stations, and corner stores (tabacchi shops)
Please do not try to hop on and hope off without buying a ticket, if you're caught it will be subject to over 100 Euro fine and other complications
Check the discounts offered in the Vienna City Card before purchasing. If you do not think you will use them then buy one of the other Vienna public transportation tickets.
Use Google Maps for basic travel, this page for a guide to the various services, and Google Flights for plane fares
Remember if you would like to learn more about any of the places included in my best public transport tips for Vienna, Austria, then you can visit my all-inclusive guide for free here!