Public Transport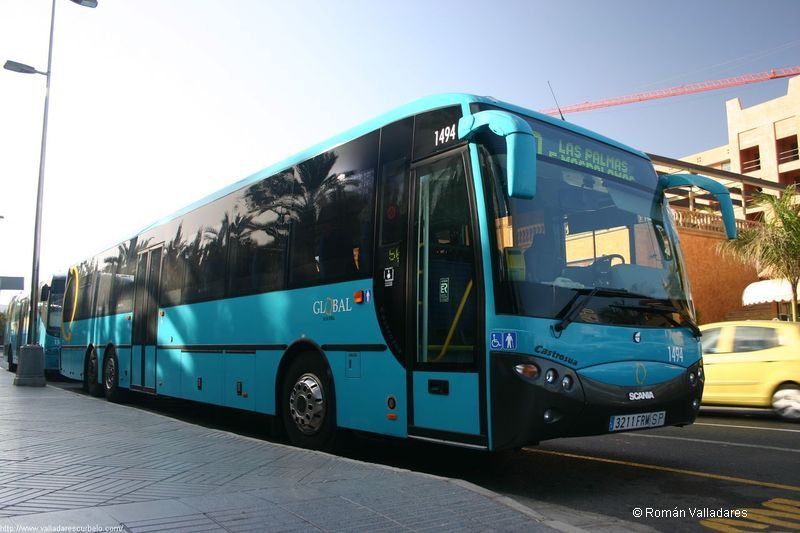 Canary Islands public transportation system is complicated but one of the simplest/cheapest ways to get around is by bus. Every island in the Canary Islands has a bus service with stops at the main locations. This is how I got to and from the airport in Gran Canaria. Bus service and schedules vary by the island but here is the link that will direct you to all of them.
Pictured here is the bus I used in Gran Canaria. The bus from the airport to Maspalomas takes about an hour and a half, tickets will cost 1.40 euro per trip per person.
You may also travel around the Canary Islands by boat, taxi, and planes.
What to Know About Each Type of Public Transport in the Canary Islands
Bus – Most tickets will be purchased onboard and the fare will vary depending on how far you're traveling. However, bus services may also accept various travel/tourist cards.
Taxi – Can be an extremely expensive way to get around at about $1.50 USD per kilometer, so use wisely.
Boat – One of the best ways to get around the Canary Islands through ferry services. Schedule your departure through multiple companies here!
Planes – Planes have become a more common way to travel between the Canary Islands. Flights will be as cheap as $60 USD and will be quick. If you have easy access to an airport, this could be the best way to get between islands.
Approximate Prices for Public Transport in the Canary Islands
Bus one-way: 1.40 Euro ($1.70 USD)
Taxi: 1.24 Euro/km ($1.50 USD/km)
Boat one-way: 50 Euro ($60.66 USD) – Without Car
Boat round-trip: 80 Euro ($97.05 USD) – Without Car
Plane one-way: 55 Euro ($66.72 USD)
Plane round-trip: 100 Euro ($121.32 USD)
* NOTE: All prices may vary depending on the island you're staying on or departing to/from *
Other Useful Tips for Public Transport in the Canary Islands
Traveling between islands and municipalities can be expensive/complicated. Try to limit the amount of travel time especially if you have less than a week in the Canary Islands. If you'd really like to see another island in a short stay, then consider doing a day trip/tour.
Carry cash around to use for buses
The ferry trips will take around 2 hours each way while plane trips will be around 30 minutes
Consider renting a car if you'd like to explore the island without reliance on public transport
Use Google Maps for basic travel, this page for a guide to the various bus services, Google Flights for plane fares, Direct Ferries for boats, and check your island for their taxi service phone number
Remember if you would like to learn more about any of the places included in my public transportation tips for the Canary Islands, then you can visit my all-inclusive guide for free here!