Sights & Attractions in Barcelona, Spain
Sagrada Familia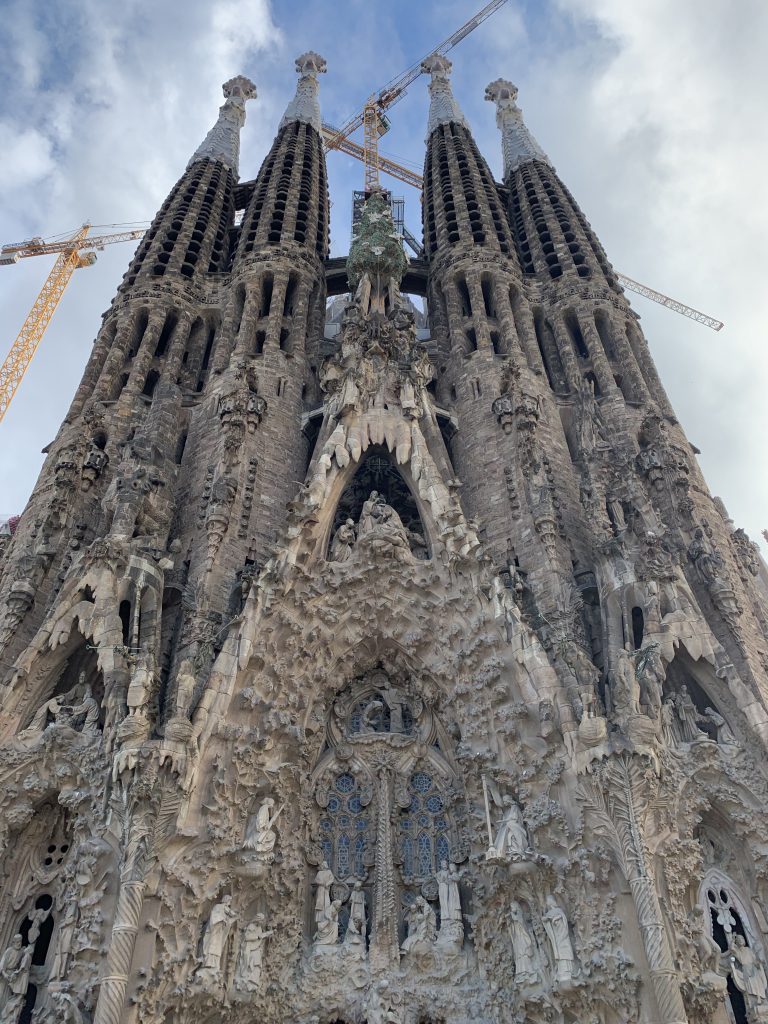 Possibly the most intricate and unique cathedral in the world, The Sagrada Familia is worth every penny. You need to buy your tickets well ahead of time and make sure you buy them on the website for the cathedral and not from any other third-party sellers. I strongly recommend you buy the ticket with the audioguide (25 euros) since you can spend hours gazing at the beautiful architecture. Keep an eye on the progress of the construction of the church since it is over 100 years old set to be finished by 2026. It's confusing when you first get there, make sure you take a look at both sides of the cathedral before your entrance time.
Park Guell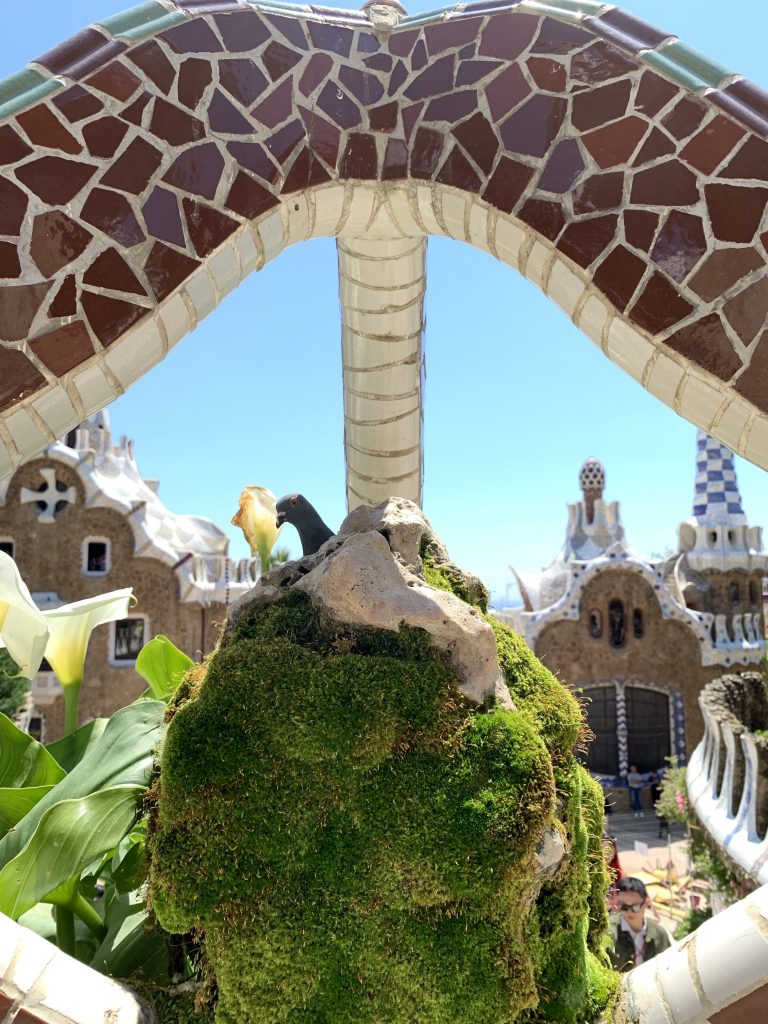 While it may be somewhat complicated to get to, Park Guell is amazing. It offers beautiful views of the city with cool architecture that makes you feel like you're in a fantasy world. To get there you have to take the 24 bus which is normal public transport and they run pretty frequently. If you do decide to walk from wherever you are, expect a steep 10 minute uphill walk. Once you get to the ticket office, take a left and walk by the Gaudi House Museum (not worth the money for it, unless you're really interested), then you will see the main courtyard. Hop into the line about 15-20 minutes before your time and you will be fine. After the paid entrance, you can walk around the rest of the park for free. I recommend going straight up the path up the hill, keep right and you will get to an observation area with benches with more beautiful views of the city.
Gaudi's Houses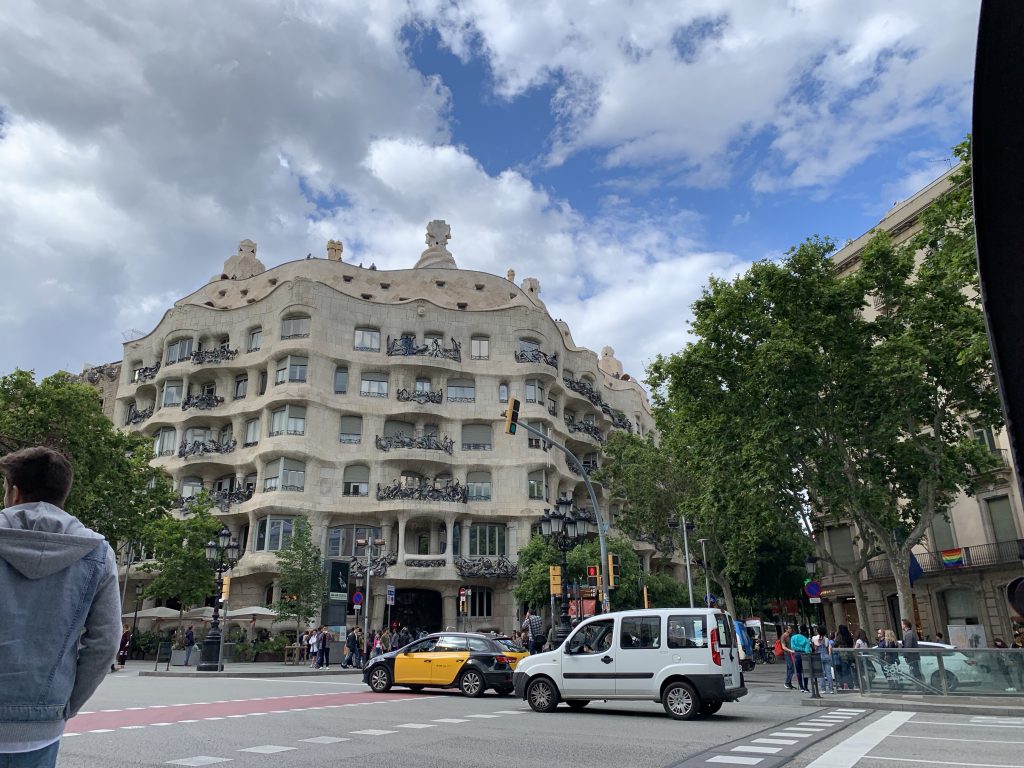 Gaudi's houses are in various places in Barcelona but they are mostly centrally located. One of the most well-known is pictured here, Casa Mila. I never bought a ticket because I did not think it was worth it (29 euro), with all of the other money you need to spend in Barcelona. Although, all of the houses are certainly worth taking a look at. Casa Batllo is the other most famous one and it's located down the road from Casa Mila. Take the extra few minutes to venture down Passeig de Gracia to observe these beautiful structures.
Mercado de la Boqueria
A large public market on La Rambla, you will find cheap, delicious lunch here every day. There are fresh juice smoothies for 1 euro (strawberry pictured here). Empanadas, fresh meat, cheeses, fish, and fruit are also all available. There was no problem for me here with a language barrier. Make sure you have cash. Walk around the entire market before buying anything. Then buy as much as you can, especially things you might have never seen or tasted before.
Ciutadella Park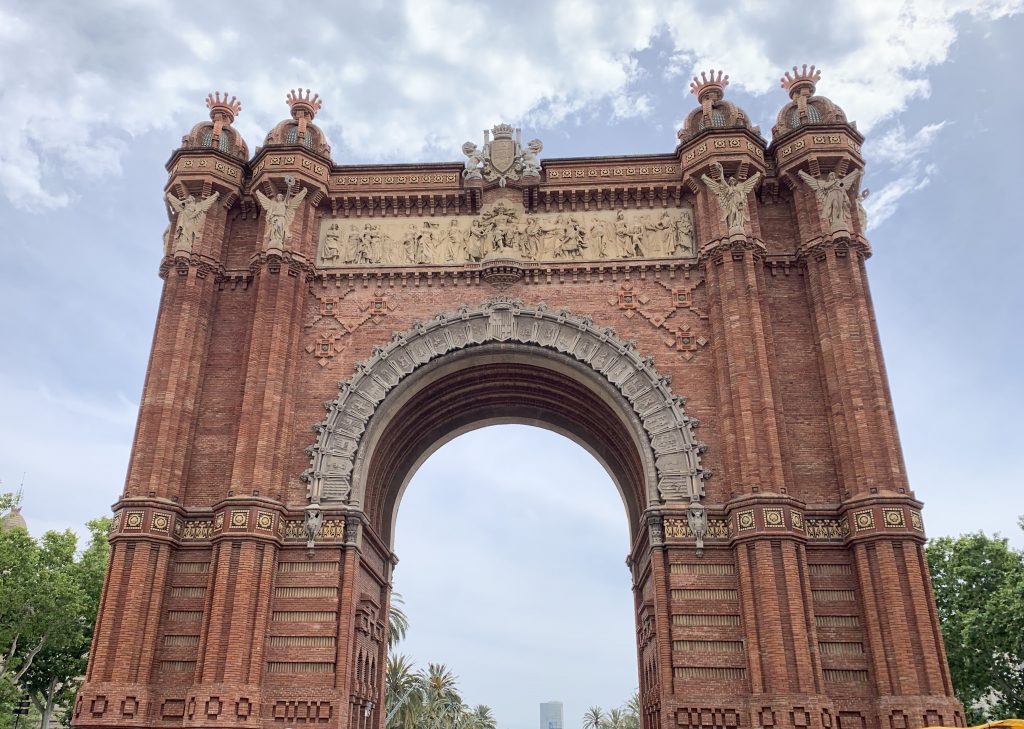 The Arc de Triomf was created as the main access gate for the Barcelona World Fair in 1888. Today, the long walkway leads you to Ciutadella Park. This walk is full of performers and "vendors". At the end of the walkway, you will cross the street into the first public space of Barcelona. Inside the park, there is a botanical garden, Museum of Natural Sciences of Barcelona (looks like a castle), plenty of statues, and a zoo at the very end. The park is well taken care of, but the trails are all dirt. If there is rain the day before or day of, then make sure you dress accordingly.
National Palace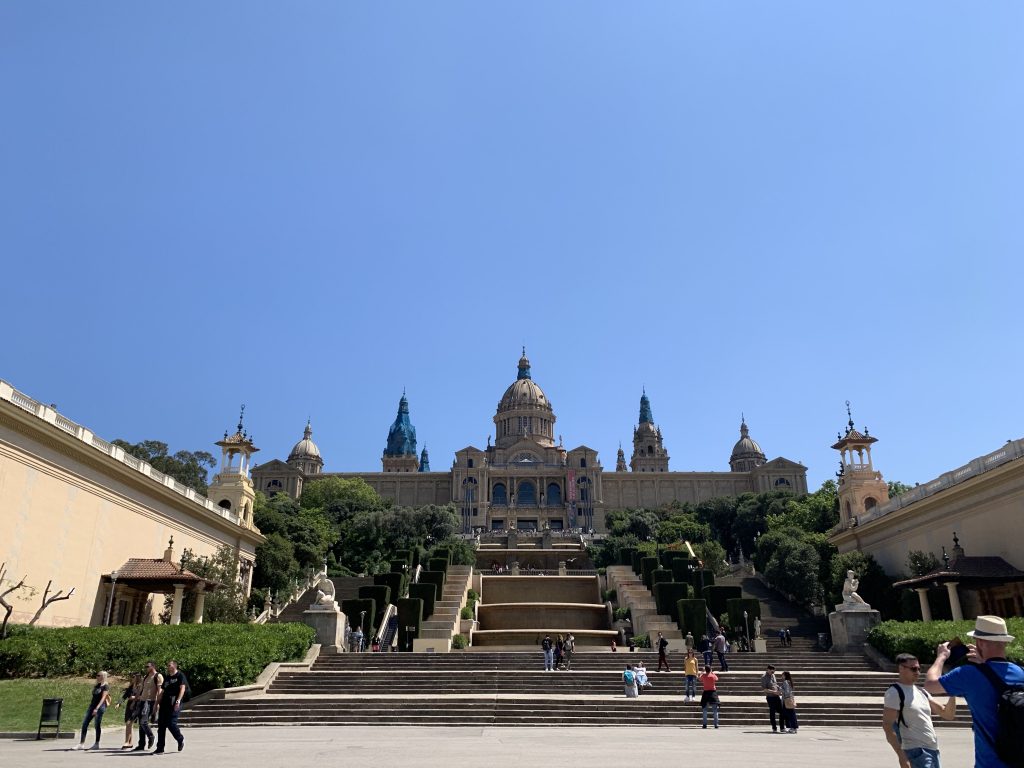 The National Palace sits upon the bottom of the hill of Montjuic. This area was built for another world exhibition in 1929 after 1888 was such a success. Today, the National Palace holds a museum for Catalan art. The walk up to this building is long and begins from a large roundabout. On some of the parts, there are escalators available. There is a food cart at the top with expensive and bad food if you're desperate. Try to go here on a nice day so you can see the Magic Fountain in action. As a side note, I never went into the building but I'm sure it would be worth the money if you're into art and architecture.
Olympic Park at Montjuic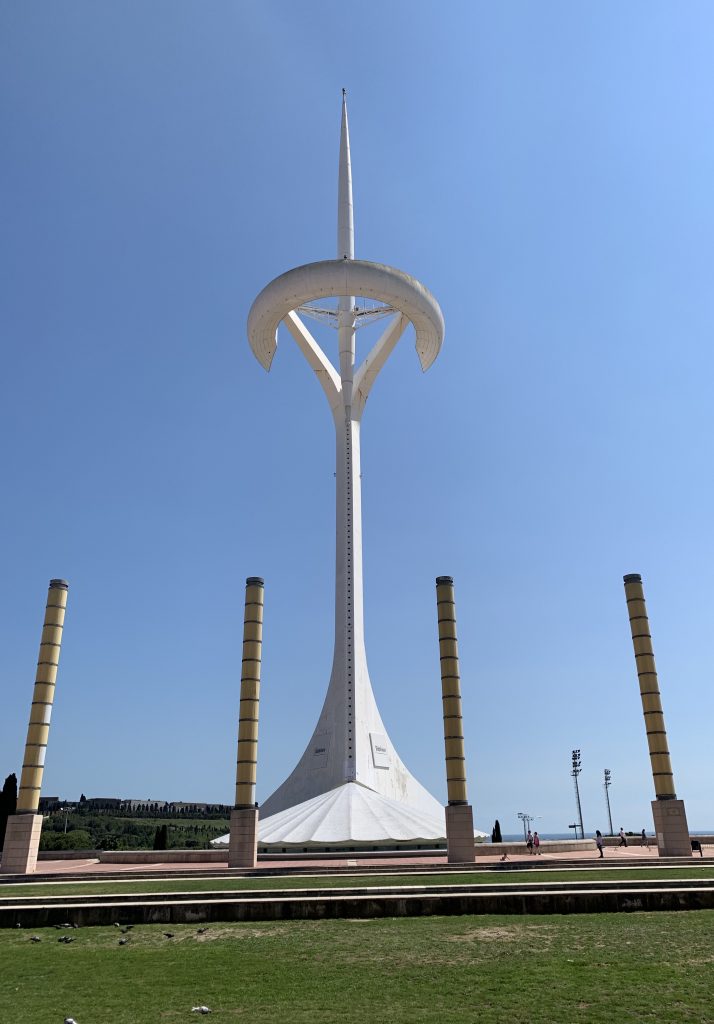 Further up Montjuic, past the National Palace, stands the large grounds which were also built for the 1929 World Fair. These grounds were also used to host the 1992 Summer Olympics. Once you are up the hill there are 3 main parts of these grounds: the right side (pictured here), with views of the city and this alien-like communications tower; the middle with a stadium for track and field; the left side with the soccer stadium. I suggest using Google Maps your entire time here to make sure you're going where you want. Everything is well maintained on these grounds but unless there's an event going on, it will feel desolate. This was the coolest part about being here, was having this entire space to yourself. If you wanted to, you could lie down and read a book in the grass too.
Tibidabo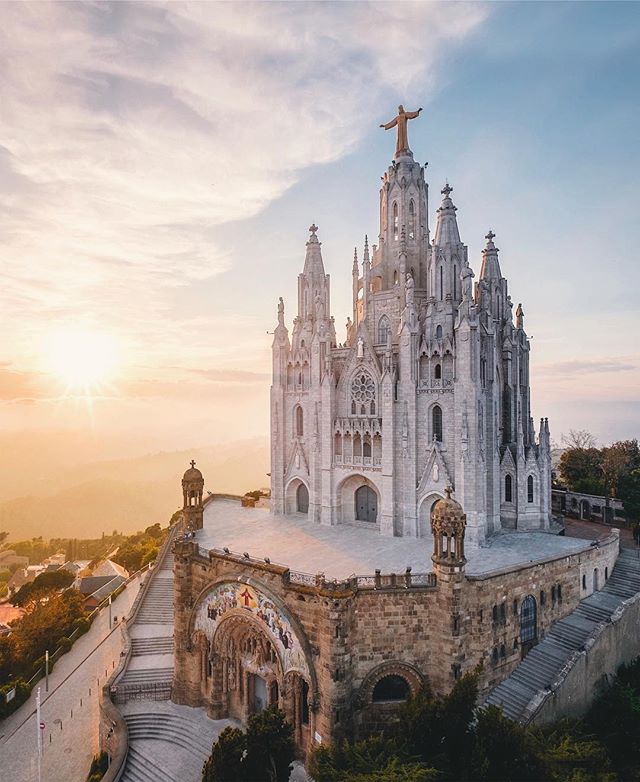 Tibidabo itself is a mountain overlooking Barcelona. At the summit is the church (Church of the Sacred Heart of Jesus) pictured here. There is an amusement park adjacent to the church. You can take the Funicular up to the mountain, then take bus111 up to the church or walk up to adore views on your way.
3-day Itinerary for Barcelona
Day 1: Park Guell, Gaudi's Houses & Sagrada Familia
This will be a busy day, and you can choose which one of your days best suits this activity but these are the main attractions on their side of Barcelona. Also, seeing all of Gaudi's work in one day lets you compare all of them. Make sure you buy your tickets in advance, have one in the morning and one in the afternoon. I suggest doing Park Guell in the morning, then going to the Sagrada around sunset if possible. The inside of the cathedral is beautiful with light shining through but it's also different after the sun goes down. Between the two, you can go over to Passeig de Gracia to see Gaudi's houses and eat. Then go to the Sagrada Familia afterwards.
Day 2: Ciutadella Park, National Palace & Olympic Park at Montjuic
This day doesn't require you to spend any money! All of these areas are public unless you wanted to go into the National Palace Museum. You can also choose how much time you spend in each of these areas. The park is nice to walk around for a little bit and the arc is cool. Then the zoo is near the park also. Then venture to Montjuic, but make sure you go from the side with the rotary. Then you can walk up to the National Palace on the large steps/escalators up. Sit at the top to rest before walking further up the hill to Olympic Park. There are also several other parks in this area to wander around in if you'd like.
Day 3: Tibidabo
The church here is amazing and the amusement park seems like the perfect way to unwind on the last day of your trip. Start early and take the cable car up the mountain. Both the park and church are open from 11am to 6pm, so decide which one you'd like to do first. If the time's right, the view of the city will be amazing during sunset.
Where to Eat in Barcelona
A South African restaurant in the area near Montjuic and the National Palace is perfect for lunch or dinner. Being from America, I had never tried South African cuisine but this place was unforgettable. It had amazing sauces, rice, and grilled meats. It's also a nice break from the tapas if you're getting sick of it.
In the old town of Barcelona, there are three "Sensi" Restaurants. There's Paz19, Gourmet, Mezzanine, and Bistro, all brought to you by Sensi. All of these restaurants are small sized and vary slightly in menus and prices. Having been to Gourmet and Bistro, I can attest to their high-quality food and service.
Founded in 2008, don't be fooled by the 1881 date which was the founding of this restaurant's original location in Biarritz. Although, this place is amazing and cheap. The space inside is tight and there's usually a long wait outside. It's deemed the tourist capital of tapas, but for good reason. If you need a quick dinner, find any other local tapas spot. There's also no reservations, but they serve you drinks while in line!
Where to Stay in Barcelona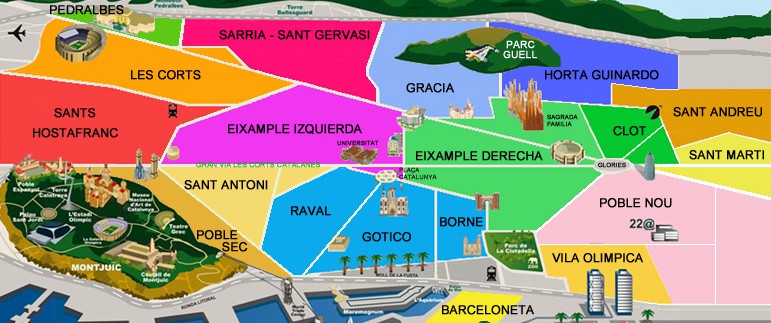 This map to the left labels the neighborhoods of Barcelona. In general, Gotico and the immediate neighborhoods around it, are the best places to stay in Barcelona. It will be easy to navigate transportation from here and you'll be close to plenty of important landmarks like the Barcelona Cathedral, Saint Jaume Square and Bisbe Irurita Street.
Transportation, How to Get Around Barcelona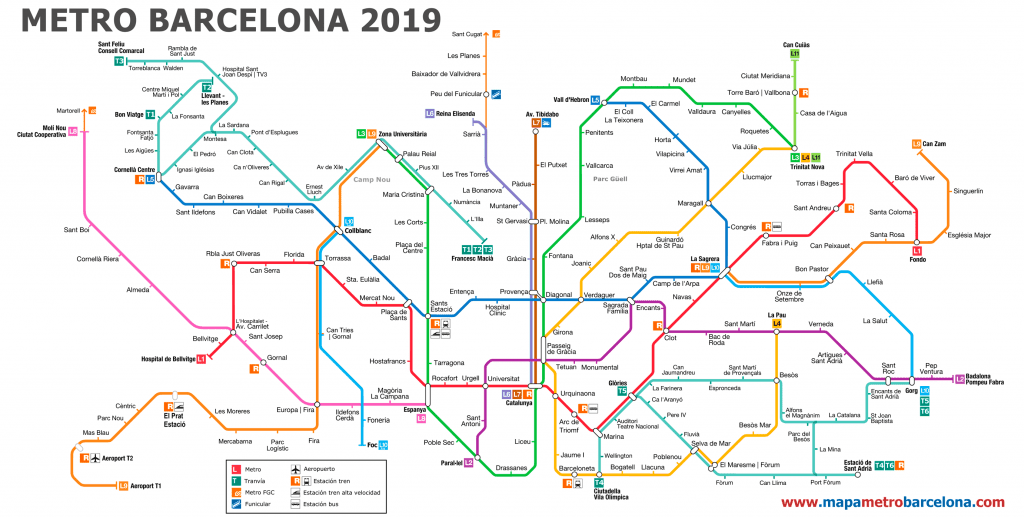 Here is a metro map for Barcelona, this doesn't even include the bus lines. Barcelona is a big city and the attractions aren't that close, so get familiar with their public transport if you plan on traveling on a budget. You can buy tickets for public transport at any metro stop. I bought the 10 trip ticket, which worked fine for five days between two people. It costs 10,20 Euro which saves money in the long run because a single trip ticket is 2,20 Euro. If you'd like to include airport transport as well, you can buy the Hola Barcelona card, but make sure you buy it through an official partner/site.
Currency used in Barcelona
Barcelona uses the Euro, which is currently exchanged at $1.10 for 1 Euro. So it's not that much more expensive, but keep in mind that you're always spending 10% more. Which might not seem like a huge difference but a 40 euro meal turns into a $48 meal.