Public Transport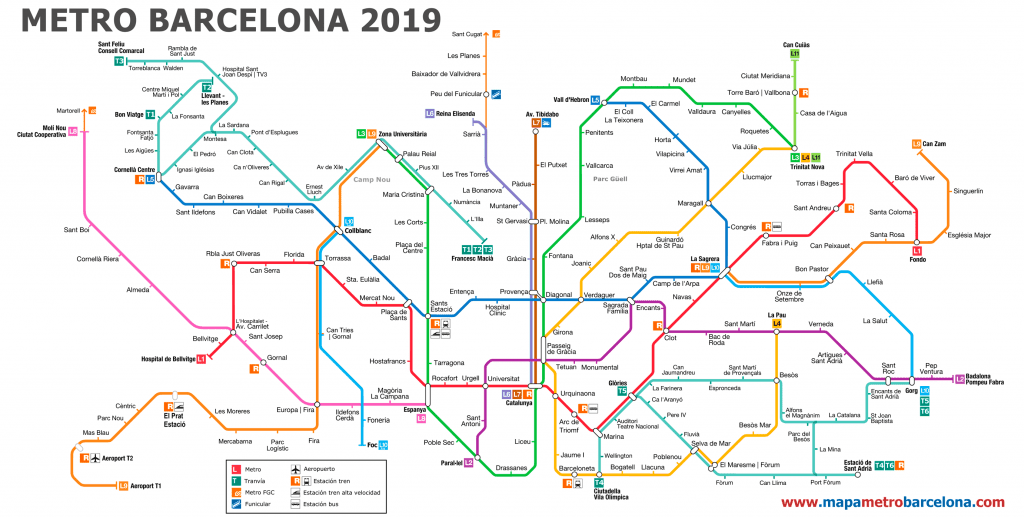 Here is a map for the Barcelona public transportation metro system, this doesn't even include the bus lines. Barcelona is a big city and the attractions aren't that close, so get familiar with their public transport if you plan on traveling on a budget. You can buy tickets for public transport at any metro stop. I bought the 10 trip ticket, which worked well for five days between two people. It costs 10,20 Euro which saves money in the long run because a single trip ticket is 2,20 Euro. If you'd like to include airport transport as well, you can buy the Hola Barcelona card, but make sure you buy it through the official partner/site here.
What to Know About Each Type of Public Transport in Barcelona
Metro – Most reliable and expansive, Completely air-conditioned, about 2 minutes per stop, each station provides tickets for all types of public transport, operates from 5:00 am to 12:00 am (midnight)
Bus – Make sure you validate passes on board, wave down driver if no one else is at your stop
Tram – Less widely used than the bus or metro but validate your tickets at little red machines outside each stop
Approximate Prices for Public Transport in Barcelona
Single ticket: 2.40 Euro ($2.90 USD)
Block of 10 ticket (Single zone): 11.35 Euro ($13.63 USD)
Block of 10 ticket (2 zones): 22.40 Euro ($26.90 USD)
Airport Metro: 4.60 Euro One-Way ($5.50 USD) or 10.40 Euro Round-trip ($12.50 USD)
Hola BCN Card:
2 Days: 16.30 Euro ($19.57 USD)
3 Days: 23.70 Euro ($28.46 USD)
4 Days: 30.80 Euro ($37.00 USD)
5 Days: 38.00 Euro ($45.63 USD)
Other Useful Tips for Public Transport in Barcelona
Validate your tickets while riding Barcelona public transportation! If not, you will be subject to a 200 Euro ($240 USD) fine!
Don't buy the Barcelona "Travel Passes" if they're not worth it for you, most of the time they are not worth it. These passes are often endorsed by travel websites and highlight discounts/deals that you might not use. I believe buying the 10-trip pass is the best especially since it doesn't put a time constraint on your public transport use.
As with any city, keep bags and belongings close to you while riding public transport
Use the Barcelona Metro App (TMB) or Google Maps on your phone to plan your transportation (Apple Store Links)
Remember if you would like to learn more about any of the places included in my 3-day itinerary for Barcelona, Spain, then you can visit my all-inclusive guide for free here!