Where to Stay in Barcelona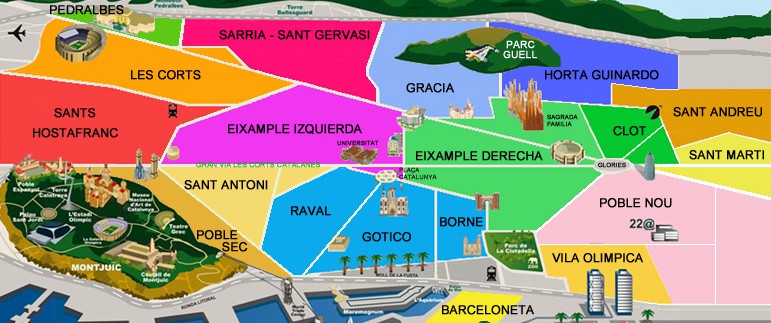 This map above labels the neighborhoods of Barcelona. In general, Gotico and the immediate neighborhoods around it, are the best places to stay in the city. It will be easy to navigate transportation from here and you'll be close to plenty of important landmarks like the Barcelona Cathedral, Saint Jaume Square, and Bisbe Irurita Street.
Hotel/Airbnb Recommendations for Barcelona
Since I was usually traveling on a budget, I got used to things like private rooms in larger houses or bed & breakfasts. I found that Barcelona was one of the best cities for a private room because other options were expensive. However, keep in mind I was there in late May, close to primetime for tourists. Moreover, this Airbnb in a private bedroom was perfect. I had little contact with Hector and Lupe (even though I wouldn't have minded because they were very nice!) Plus they have a nice dog named Gordo that you can play with if you like dogs!
Remember if you would like to learn more about any of the places included in this post about where to stay in Barcelona, Spain then you can visit my all-inclusive guide for free here!